Watercress Soup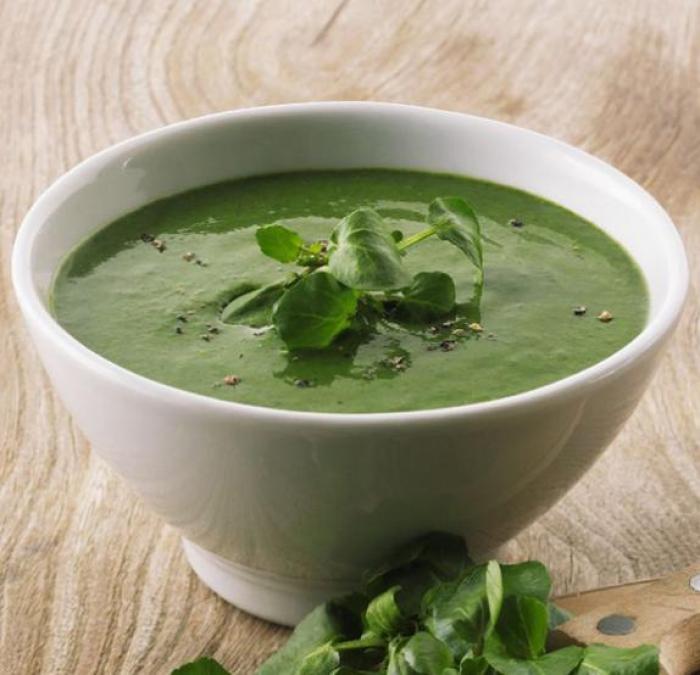 Serves: 2
Ready In: 60 mins
Ingredient
3 large bunches watercress, destalked and chopped, about 225 g de-stalked weight (reserve a few leaves for garnishing)
110 g butter
the white parts of 5 leeks, about 400 g, washed and chopped
4 medium potatoes, about 700 g in weight, peeled and chopped
1.75 litres stock
4 heaped tablespoons crème fraîche
salt and black pepper
---
Method
Melt the butter in a large thick-bottom saucepan, then add the prepared leeks, potato and watercress and stir them around so that they're coated with the melted butter. Sprinkle in some salt then cover with a lid and let the vegetables sweat over a very gentle heat for about 20 minutes, giving the mixture a good stir about halfway through.
Add the stock, bring everything up to simmering point and simmer, covered, for about 10-15 minutes or until the vegetables are quite tender.
Remove the pan from the heat and when it's cooled a little liquidise the soup – you'll need to do this in batches.
Once liquidised, return it all to the saucepan, swirl in three tablespoons of crème fraîche, season to taste and reheat very gently. Then serve in hot soup bowls and garnish each one with a little extra crème fraîche and some watercress leaves.