Stir-fried Shanghai Bok Choy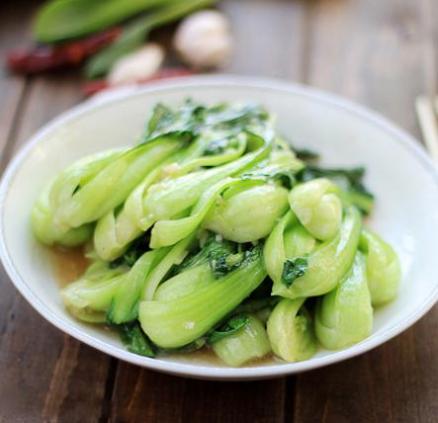 Ingredient
500g bok choy
2 tbsp oil
5 cloves minced garlic
salt and white pepper, to taste
pinch of sugar
---
Method
Trim the bottoms off of each bundle of bok choy, and split them in halves or quarters. Just make sure all of the pieces are relatively uniform so they cook evenly. You can leave them whole if they're very small and tender.
Heat the wok over high heat until smoking, and add 2 tablespoons oil. Swirl around the oil so the wok is coated. Add garlic and immediately add the bok choy. Sauté the greens quickly in the oil and garlic, ensuring the garlic doesn't burn.
Once the vegetables begin to wilt, about 30 seconds, add salt, pepper, and sugar.